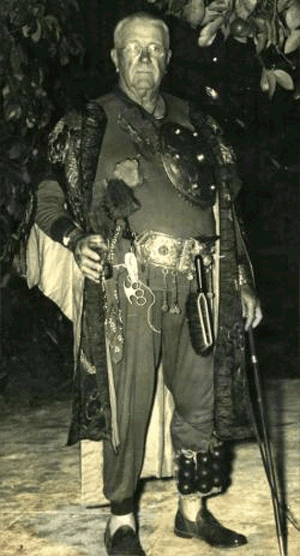 Waldo Sexton shown above.
arrived in Vero Beach in the 1920's and proceeded to build the Driftwood Inn, one of the most extraordinary structures in the South. Sexton, founder of McKee's Jungle Attractions, also in Vero Beach, built his sprawling dream of cypress logs and pecky-cypress paneling from the swamps around the Blue Cypress Lake about 26 miles away. Townspeople who remembered the 1930's describe Sexton pacing up and down the beach shouting verbal instructions to the crews, who worked by voice command only, without plans. The result was a two-story hotel with balconies everywhere surrounded by pole railings with turned or peeled-log supports.

Nothing seems to be square or level, and the main porch eases itself through shifts in level a little like a frozen wave. Once Sexton finished the inn, he began to fill it, inside and out, with a, mish-mash of objects ranging from ships' wheels to cannons and from early Italian chests to plush sofas, gleaned from every corner of the state and as far away as Europe. The Driftwood affectionately calls this the "Menagerie of Monstrosities."
Certainly the most famous part of this menagerie is the vast collection of bells. Some were purchased from missions in Mexico, others once graced such proud locomotives as Old 97 of Virginia or the local line that ran to Key West. One of the bells belonged to Harriet Beecher Stowe. Anyone is free to ring a bell or two when the spirit moves them. In earlier days at the Driftwood, one's popularity could be judged by the number of bells rung upon departure.

It is said that Sexton would disappear for days and no one would know exactly where he had been until a truck would pull up laden with the treasures he had bought. Some of the finest pieces came from luxurious estates in Palm Beach, and many are of museum quality. Waldo Sexton used to love to show off his collection. Jay Clare, in an article in the New York Times, describes Sexton taking a group of visitors through the Driftwood and regaling them with tales of each object. One woman enjoyed her tour so much that she trailed along with another group the next day. To her amazement, none of the stories were the same. Sexton is quoted as saying when confronted with the inconsistency, "Madame, I'd rather be a liar than a bore any day."



Waldo E. Sexton
From Wikipedia, the Free Encyclopedia

"Waldo, We Hardly Knew Ye"
Wriiten by: Gregory Enns, Indian River Magazine

My Florida History
Adventures with history and culture in the Sunshine State

"A Bit about Waldo, a True Romantic"
https://verobeach.com/blog/eats/a-bit-about-waldo-a-true-romantic
Provided by: verobeach.com

Beautiful Dreamer:
"Waldo Sexton and the Marvelous Mountain He Made Out of Muck"
Written by: Paige Van Antwerp, The Newsweekly Published Sept. 29, 2018

Waldo E. Sexton Architect
https://alchetron.com/Waldo-E-Sexton
Provided by: Alchetron.com

McKee Jungle Garden
https://mckeegarden.org/