The Beachside Sampler
A sample of our fried mozzarella, conch fritters & coconut shrimp.

Peel And Eat Shrimp
Tender boiled shrimp served with your choice of a spicey cocktail sauce or old bay seasoned butter.
Served Half Lb. or 1 Lb.

Baked Brie
A mild wheel of brie, lightly seasoned and served hot with fresh fruit and garlic toast.

The Beconshire Nachos
Fresh tortillas buried under a sea of melted cheddar and jack cheese, chili, then topped off with a sea spray of lettuce & diced tomatoes. served with salsa, sour cream and guacamole.

Caribbean Style Crab Cake
A blend of lump crab meat & island seasonings then served up with a red pepper sauce.

Coconut Shrimp
Large gulf shrimp breaded then rolled in fresh coconut and deep-fried to a golden brown. accompanied with a caribbean dipping sauce.

"Key West" Conch Fritters
This is a true Key West favorite. a blend of conch and island seasoning then fried to perfection and served with a spicy cusabi sauce.

Beer Battered Dolphin Fingers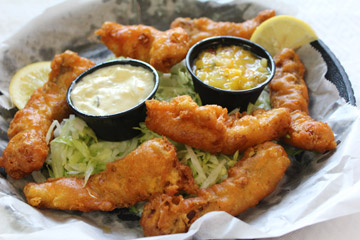 Beer battered mahi-mahi then deep-fried and served with our homemade mango salsa.

Waldo's World Famous Chicken Wings
How do you like them, medium, hot teriyaki, garlic parmesan, honey bbq, or the kitchen sink? Accompanied with bleu cheese and celery sticks.

Bermuda Triangles
Hand breaded mozarella cheese deep-fried and served with marinara sauce.

Fried Calamari
Fresh calamari fried golden brown and served with marinara sauce.

Mrs. Peter's Smoked Fish Dip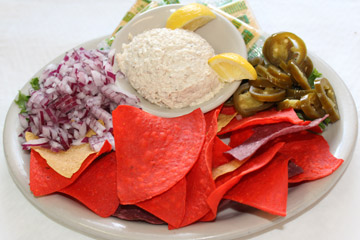 A Florida tradition since 1911, smoked Mahi blended with spices and seasonings served up with Captain's wafers and fresh tortilla chips.

Fried Green Tomoatoes
6 thin-sliced green tomatoes, seasoned with cajun bread crumbs and fried golden brown.

Onion Rings Basket
Fresh White Onions beer battered and deep fried served with Horseradish Sauce or Ranch Dressing.


"Crazy Harry's" Cobb Salad
Straight from Cancun. Fresh diced chicken, avocado, tomatoes, scallions, black olives, bacon bits, cucumbers and crumbled bleu cheese. served up on a bed of shredded lettuce nestled in a tortilla shell with a dijon dressing.

Waldo's Signature Chicken Salad
Deliciously prepared with pulled white meat chicken, walnuts and blended with our chef's special seasonings, then served with a low fat pasta salad, fresh fruit and home made beet chips.

Hawaiian Salad
Blackened scallops & shrimp atop mixed greens, diced tomatoes pineapple and grapes topped off with toasted almonds & your choice of any of our homemade dressings.

Traditional Caesar Salad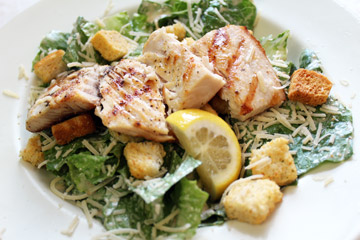 Fresh Romaine Lettuce tossed with Grated Parmesan Cheese and Seasoned Croutons.
If you would like to dress up your Caesar Salad choose one of the following:
Grilled or Blacken Shrimp, Chicken or Mahi-Mahi; OR Grilled or Blacken Tuna Steak.


All of our Breezeway Baskets are served with french fries and our creamy cole slaw.

New England Style Fish And Chips
Prepared with fresh north atlantic fish, beer battered then served up with malted vinegar. will bring the yankee out in anyone.

The Traveler's Shrimp
A mix of coconut, beer battered and monterey jack stuffed shrimp served with an array of dipping sauces.

"Crazy" Coconut Shrimp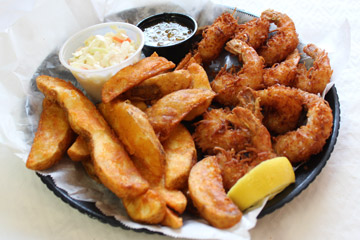 Large gulf shrimp breaded then rolled in grated coconut, quick fried and served with our mango salsa.

The Breakers Chicken Fingers
Beer battered Chicken Fingers fried golden brown. Have them plain or tossed in one of our wonderful Wing Sauces.


All waldo's wraps are accompanied with your choice of seasoned fries, cole slaw or home made pasta salad.

Tijuana Club
Classic club with sliced ham, turkey, lettuce, tomatoes and bacon rolled in a flour tortilla.

Chicken Caesar
Boneless breast of chicken tossed with romaine lettuce in our caesar dressing and wrapped up in a warm tortilla.

Key West Style
Blackened mahi-mahi tossed with romaine lettuce and caesar dressing then wrapped in a tortilla.

Southern Style Fish Tacos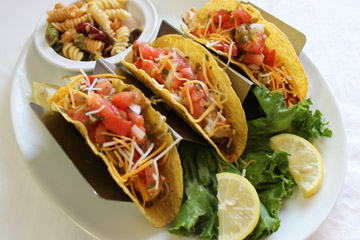 Blackened Mahi, Cole Slaw, Cheddar Jack Cheese and homemade Pico De Gallo sauce, or with Seared Tuna

Waldo's Chicken Quesadilla
Flour tortilla filled with bacon, chicken, scallions, chopped jalapenos and colby and jack cheese.

Southwest Quesadilla
Grilled tortilla filled with ham, turkey, scallions, black olives, chopped tomatoes and jalapenos. topped off with colby and jack cheese.

Veggie Lover's Quesadilla
Fresh grilled vegetables with a blend of cheeses.

Cajun Shrimp Quesadilla
Blackened shrimp blended with chopped tomatoes, scallions, jalapenos and cheddar jack cheese.


All the Sea Buckler items include French Fries, Fresh Fruit, Pickle and a Beverage.
For our Swabbies 12 and Under.

The U.S.S Burger
2 of our Burger Sliders with your choice of Toppings.

Captain's Dog
All Beef Hot Dog prepared to the Captain's order.

The First Mate's Chicken Strips
Fried or Grilled Chicken Strips served with Honey Mustard or BBQ Sauce.

The Galley's Grilled Cheese
Straight from the galley, hot Melted Cheese between White Bread and grilled to perfection.

The Pirate's Quesadilla
Mounds of Golden Cheese and Bacon buried in a treasure chest of a warm Tortilla.

Mermaid's Dolphin Fingers
Fresh Mahi breaded and deep fried to a golden brown.

Treasure Chest Pasta
A bountiful bowl of Penne Pasta with "Golden" Butter Sauce or "Ruby" Marinara Sauce.


Available after 4 p.m. - All dinners are served with your choice of a house salad or a cup of our soup, fresh steamed vegetables and a selection of french fries or baked potato.

Fresh Local Catch Of The Day
These are fresh local water fish brought in daily. your server will be happy to inform you on our daily selection.

Driftwood Shrimp And Scallop Scampi
Large fresh shrimp and sea scallops sautéed in white wine, butter and garlic and served over a bed of linguini.

Southern Style New York Strip
Aged 12 oz. steak marinated with a blend of southern seasoning, then grilled to your liking.

Cattleman's Prime Rib
Slow roasted prime rib of beef served with au jus and horseradish sauce.

Baby Back Ribs
Our world famous slow cooked ribs. we baste them once more for you and finish them on the grill. extra napkins will be served.

Pineapple Jerked Chicken
Seared Marinated Chicken Breast with sautéed Peppers, Onions, Pineapples, Jalapenos, Cilantro and Brown Sugar.

New Orleans Pasta
Blackened Chicken and Andouille Sausage sautéed with Cajun Spices and served over Penne Pasta in a Creole Cream Sauce.


All Sandwiches and Burgers are served with your choice of Seasoned French Fries, Coleslaw or Pasta Salad

Jamaican Mahi-mahi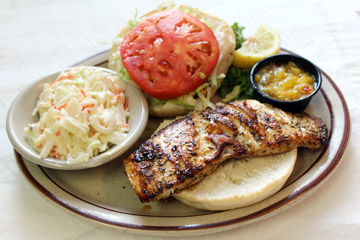 Fresh Mahi-Mahi grilled with a blend of island seasonings and served on an onion roll with a side of Mango Salsa.

Cervantes Chicken Cordon Blue Sandwich
Seasoned Chicken Breast with Grilled Ham & Swiss Cheeses. House Made Honey Mustard Sauce for dipping.

V.I.P. Sandwich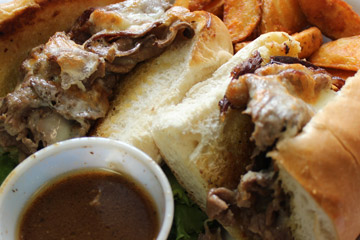 Thinly sliced usda choice prime rib with au jus and jack cheese served open faced on a toasted hoagie roll.

Charbroiled Hot Dog
1/4 lbs all beef hotdog broiled then served with any of your favorites.

By Land Sliders
Black Angus Sliders with grilled Onions, sliced Pickle and American Cheese.

By Sea Sliders
Our own soon-to-be-famous recipe of white crab meat mixed with a blend of island seasoning then grilled and served with our roasted red pepper sauce.

Southern BLT
A southern twist on an old classic. Fried Green Tomatoes, Apple Smoked Bacon, Lettuce with Cajun Mayonnaise on Texas Toast.

The Pittsburgher
(Lee's hometown favorite) Our Black Angus Burger topped with French Fries, Cole Slaw and Jack Cheese.

Backyard Burger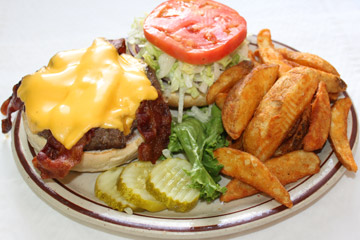 1/2 lbs burger prepared to your liking with lettuce, tomato and onion on a fresh kaiser roll.
Available burger toppings (may have an upcharge): Bacon, american cheese, swiss, jack, crumbled blue cheese, grilled onions, pepper corn, sautéed mushrooms, jalepeno peppers, chili, or blacken your burger.